Portfolio – 55 Victoria Street (55VS): A stunning new development in the heart of Victoria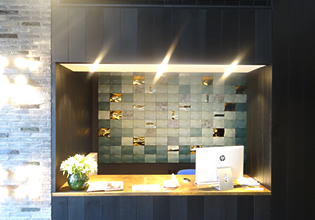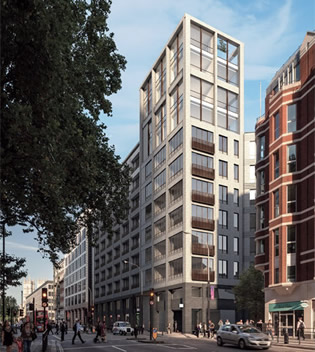 55 Victoria Street (55VS) is a new residential development in the heart of Victoria. The project was realised by award-winning developer Alchemi Group in collaboration with Stiff + Trevillion Architects, a well-established West London practice with a strong reputation for elegant and sophisticated architecture. The stunning result comprises 54 New York loft-style luxury apartments, nominated for the 2016 International Design and Architecture Awards for Interior Design.
Asked by Laura Marino, the creative director of Alchemi Group, to design a large wall panel for the concierge wall of 55 Victoria Street, Regina created a 3x2m three-dimensional wall sculpture consisting of 156 undulating tiles in a turquoise colour palette.
Regina made several site visits and worked closely with Laura Marino and the architect Lance Routh on this project to insure that her site specific-design takes into account the prominent and most important features of the architecture and interiors.
The brief was to comply with the design style yet to introduce an organic element into the grid structure of the modern building.
The architect used glazed and unglazed bricks to create texture and an interesting alternation of shiny and matte surfaces on the brick walls. Paired with high-gloss brass elements, this is a signature design feature of the building and is perfectly continued and translated by the combination of matte, textured and high-gloss gold elements of the wall panel. The colour palette of the tiles is a further site-specific element and refers both to the green glazed bricks and the beautiful turquoise green colour range of the tiled bath rooms of the apartments.
Yet 55VS is a complex artwork. The circular design in shades from light to dark provides a "glowing" background to the concierge loge. Patterns of light and shadow and flashes of light are created by the flowing shape and high-gloss gold surface of the tiles. They introduce animation and texture and beautifully counterbalance the dark panelled interior.
Regina's largest and most specific wall panel to date 55VS is a perfect example of how a well-designed feature wall can both enhance and complement its surroundings and introduce style, refinement and sophistication into an architectural space.