Portfolio – Cheyne Terrace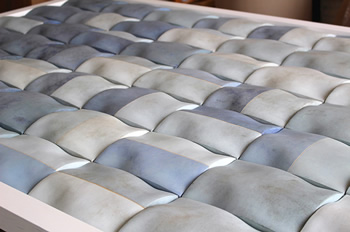 Collett Zarzycki Ltd, a London based multi-disciplinary architectural design practice with extensive experience of developing high-end residential properties in Europe, America and the Far East commissioned "Pixel", a 2m tall wall-sculpture, as a bespoke artwork for Cheyne Terrace.
This luxury residential development, located between King's Road and Chelsea Embankment was nominated for the prestigious 2014 SBID Awards in the "New Build & Development" category.
Taking into account the aesthetics of the existing space, Regina designed a calming composition of matte-glazed sculptural tiles, hand-painted in subtle shades of light and dark blue.
Water was the inspiration and starting point for the design. Colour and shape of the undulating tiles contrast and enhance the dark panelled interior and introduce reminiscences of rippling patterns, reflections and sunlit water surfaces into the urban environment.