Portfolio – KBIS with Ann Sacks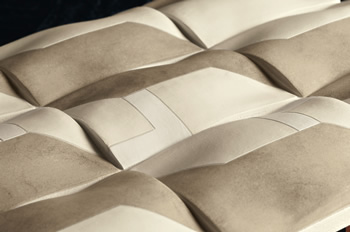 Regina's love of materials and her unique sense of colour paired with her exploration of pattern and form led to a collaboration with Ann Sacks, a leading American retailer for luxury tile and stone products, who opened a showroom at Chelsea Harbour Design Centre in 2011.
Regina was commissioned to develop a sculptural tile range and a hand-painted colour range for the Ann Sacks art tile collection to be displayed in over 20 show rooms world-wide.
Flow1 is a 2x2 m display panel Regina created for the Ann Sacks stand at KBIS Las Vegas 2011, the world's largest international trade event dedicated to the kitchen and bath industry.
The panel comprises 160 hand-painted tiles in muted colours. The geometric flowing pattern extends over a combination of flat and curvy tiles and serves as an interesting example of how to combine two-dimensional and three-dimensional objects for an enhanced sculptural effect.