Portfolio – "Looking Out" - Commission for new P&O Cruise Ship "Britannia"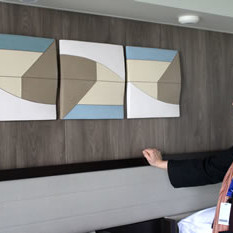 "Once the prototypes were installed for viewing in the cabin, it instantly became clear how well the design complemented the interior and how much sophistication and glamour the three dimensionality and rich texture of the art work added to the overall style".
Tom Tempest Radford
"Looking Out" is a large scale design commission for P&O. Regina was asked to design the cabin artwork for 2000 cabins of P&O's latest luxury cruise ship "Britannia", which launched in 2015.
Regina Heinz worked on this project with art consultant Tom Tempest Radford and the acclaimed hospitality interiors company Richmond International, who had overall responsibility for the ship's interior design.
Following a site visit and a viewing of the mock cabin to appreciate the overall design concept of the ship, Regina created a sculptural triptych with an undulating surface and a dynamic wave-like design.
The design is inspired by the notion of a "window" and combines the flowing lines of waves and water with an abstract geometric pattern. It suggests "Looking Out" through a series of three square "windows" in each cabin onto the seascape and the architecture of the ship and increases a sense of space and depth within the cabin interior.
For the final installation, 6000 pieces were manufactured by the British company Feathercast, who specialises in the use of Jesmonite, a new versatile composite material used in fine arts and crafts. Jesmonite fulfilled the brief of preserving the ceramic texture and colour while being a lightweight and non-fragile material.
BBC: Britannia: Leaves on maiden voyage - video includes footage of installed work