Portfolio – Sinatra Duplex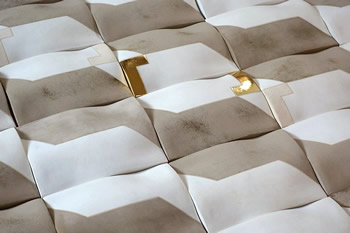 "Hommage to Klimt" is a ceramic wall-sculpture, 2m wide, comprising 70 hand-painted sculptural tiles from the Flow Collection, commissioned as a bespoke artwork for "Sinatra Duplex", a new residential development in London.
Regina was approached by the London-based high-end design studio 1508 to create a sculptural wall panel for the luxurious living area of a new London residence.
After consultation with the client, carefully taking into account the style and spirit of the surrounding environment, Regina designed a composition of subtle brown and beige colours. The gold accents and gentle flowing patterns were inspired by the luxurious Art Nouveau paintings of her home country Austria.
The design, while perfectly complementing the elegant living space, provides animation for the white panelled wall and adds a sophisticated dimension to the grand interior.